---
"I have always been fascinated by connecting music together with other performing arts. Music has no boundaries, no body, no scent nor taste, and as such it can contain all the worlds and embody all arts, while blending in without taking anything but rather contributing."
---
The last Melody
---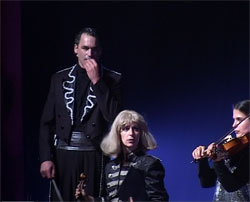 Roni Porat, Yarden Bar Kochva and Julia Ben Har
In a new and digital world where melodies have been long-forgotten, an old cellist auditions for "the music factory" and gets accepted. He is secretly committed to passing on the "last melody" to the next generations.
The production premiered in the Israel Festival 2004.
Script writing and acting: Roni Porat, Yarden Bar-Cokhva, Ely Gorenstein
Other actors: Daniel Colben and all orchestra members
Director: Noya Lancet
| | | |
| --- | --- | --- |
| Click here | | to watch video clips from the concert. |
---
Fantasy for Chimpanzee & Orchestra
---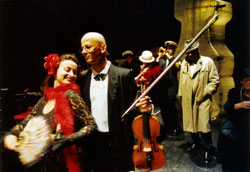 Tomer Hofmann and Yalena Yarustavisky
A theatre concert based on Franz Kafka's "Report for an Academy", involving all musicians as singers and actors.
The production premiered in the Israel Festival 1999.
Music: Roni Porat
Director and Actor: Yehuda Almagor
Actors: Emmanuel Hannoun, Rusty Warhurst and all orchestra members
---
Sofia's Friends
---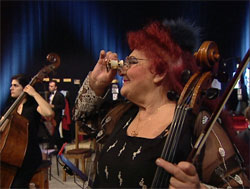 Sofia Trost
Homage to the immigrants from the former USSR, with particular attention to their vast contribution to Israeli culture.
Script: Musicians of The Israel Stage Orchestra
Conductor and Narrator: Roni Porat
---
The entire world is a Stage
---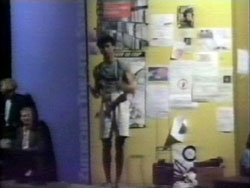 Roni performs in the streets of Zurich, 1988
The various performing arts come together on the classical music stage. "Symphony of life" - the voices, the melodies and the sound of daily life, combined to create a unique musical / theatrical event.
Conductor, narrator and Script: Roni Porat
Actors: all orchestra members
Don't miss the other programs:

---

:: Theatre Concerts ::

---